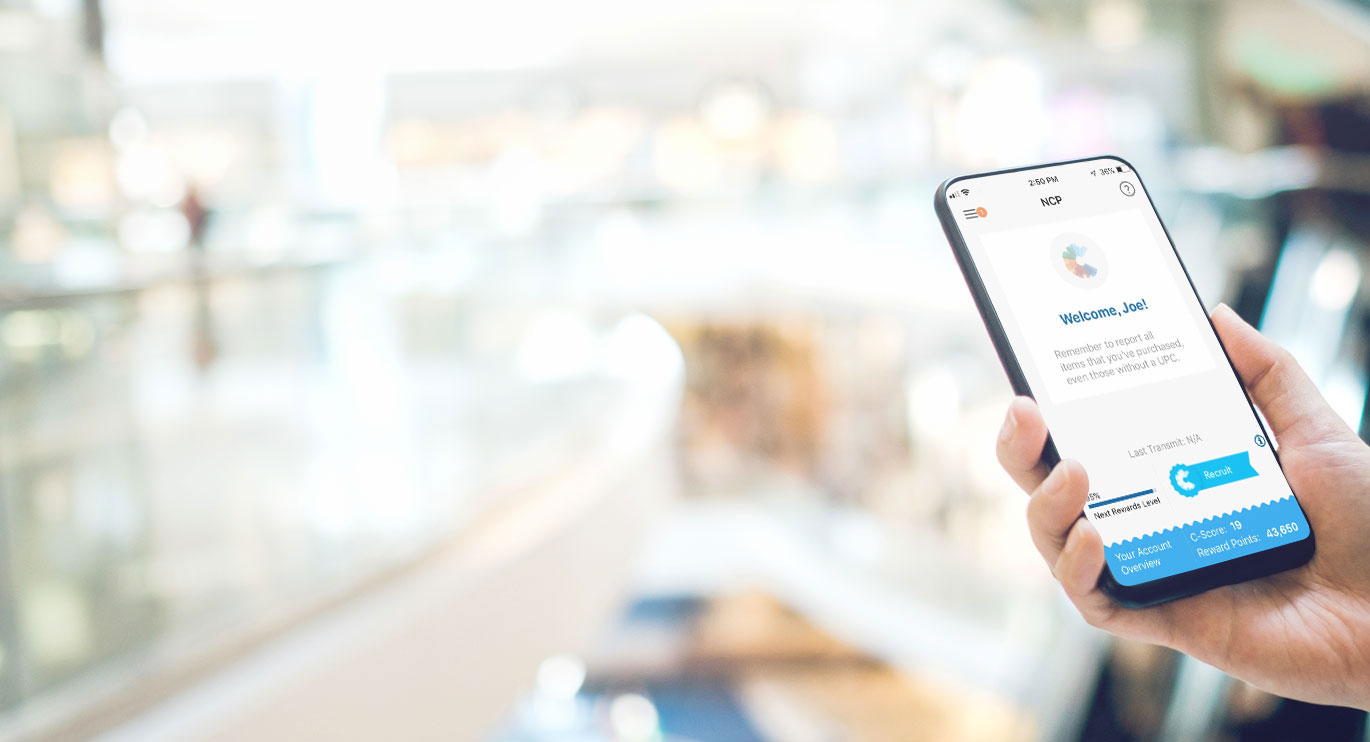 YOUR VOICE.
YOUR IMPACT.
YOUR REWARD.
YOUR APP!
Share your shopping opinions, earn points and enjoy great rewards – with the NCPMobile App.
Scan and Record Purchases
Scan the barcodes on items purchased on your shopping trip

Take Surveys
And receive updates directly through the NCPMobile interface

Earn Rewards
Redeem reward points for e-gift cards or gifts from our catalog

Play Games
Earn reward point bonuses with exclusive member games
Scan Barcodes on
Your Purchases

Scan Barcodes on
Your Purchases
You will use NCPMobile to scan the barcodes on all the products you or others in your household purchased during a shopping trip.

Submit Your
Shopping Data

Submit Your
Shopping Data
All of the shopping data you recorded is transmitted to NCP automatically – this is how you earn rewards!

You will also be invited to take part in surveys and, on certain occasions, special studies that will earn you even more rewards!
You provide data
on your shopping
experiences. NCP will analyze this data as well as information from surveys you take.
That data
is shared
with manufacturers and retailers, who use it to make important marketing decisions about the brands they make/sell.
Your data
influences
future shopping experiences for you and other consumers across the U.S.
Ready to Become a Panel Member?
Existing panelists: are you interested in switching to NCPMobile? Contact us at
Amazon.com is not a sponsor of this Promotion. Except as required by law, Amazon.com Gift Cards ("GCs") cannot be transferred for value or redeemed for cash. GCs may be used only for purchases of eligible goods at Amazon.com or certain of its affiliated websites. For complete terms and conditions, see www.amazon.com/gc-legal. GCs are issued by ACI Gift Cards, Inc., a Washington corporation. All Amazon ®, ™ & © are IP of Amazon.com, Inc. or its affiliates. No expiration date or service fees.